Automatic Fire Extinguisher is a relatively novel fire fighting equipment. Compared with the Fire Extinguisher we often see, the number of automatic fire balls is relatively less, but its fire fighting effect is quite good. The appearance of the fireball is like a basketball, which makes many people not know how to use it.

1: When a fire breaks out in a certain area, both the elderly and children can throw or roll the fireball to the designated area. Once the flame touches the lead, it will ignite and start within 3S, so as to put out the fire quickly.

2: In some areas where fire may occur, first put the fixed frame of dry powder fireball device at the designated position. When a fire occurs, the flame ignites the lead wire, and the dry powder fireball device will start within 3S, so as to quickly put out the early fire!

The above is the introduction of the use of automatic fireball, I hope to help you. If you have any order demand or purchase intention related to automatic fire extinguishing ball, dry powder fire extinguisher and heptachlor propane fire extinguisher, you can directly contact us - Tianyu fire extinguishing ball.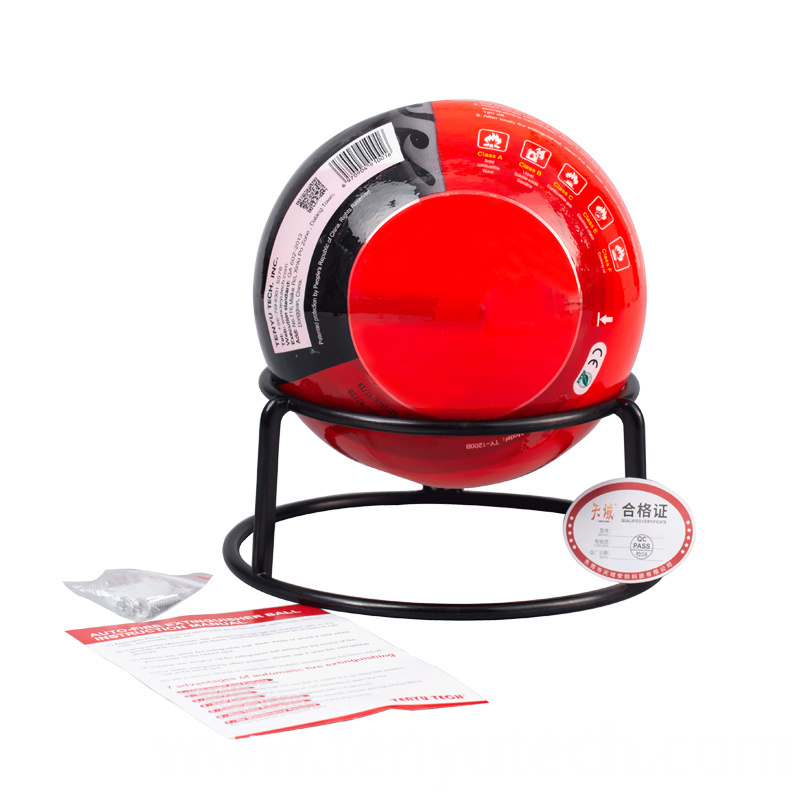 Special datas:
Product name:Auto Fire Extinguisher ball
Item #:TY-1200
Diameter:150 mm
Weight:1.2kg
Extinguishing Range: 2.5m³
Reaction Time: ≤ 3s
Alarm Volume:120dB
Life Span: 5-Year
Accessory:
(1) Bracket+Screw (by default)
(2) Bracket+Magnet(if specified)
Six advantages:

1、Lightweight portable: only 1.2Kg, all people can freely use.
2、Simple: simply thrown into the Fire Ball fire place or installed in fire-prone position, caught fire extinguishing can be carried out.
3、Responsive: as long as the contact flame 3-5 seconds, will be able to trigger a fire extinguishing mechanism, effective fire.
4、Alarm function: as long as the placement of the fire extinguishing ball in fire-prone areas.When the fire occurs, it will be able to produce and issue the alarm with about 120 decibels.
5、Safe and effective: no longer need to close to the fire scene, the environment completely harmless; completely harmless to the human body.
6、Warranty Validity: five years, and does not require any routine maintenance.
Note:
1, Powder extinguishing ball should be stored at room temperature, dry environment.
2, Do not deliberately throwing, ignition automatic fire extinguisher.
3, Do not expose the fire extinguisher to water sources to prevent damage to the fire extinguishing mechanism.
4, Forbidden to damage, demolition.