The automatic dry powder fireball device will produce great power after burst, the fire extinguishing coverage radius can reach 1.5 meters, the efficiency is very high! In the case of a fire but no one around, the automatic dry powder fireball device will automatically explode and extinguish the fire when it reaches a certain temperature. At the same time, the huge sound of the explosion can play a warning role and remind the surrounding people to come to fight the fire.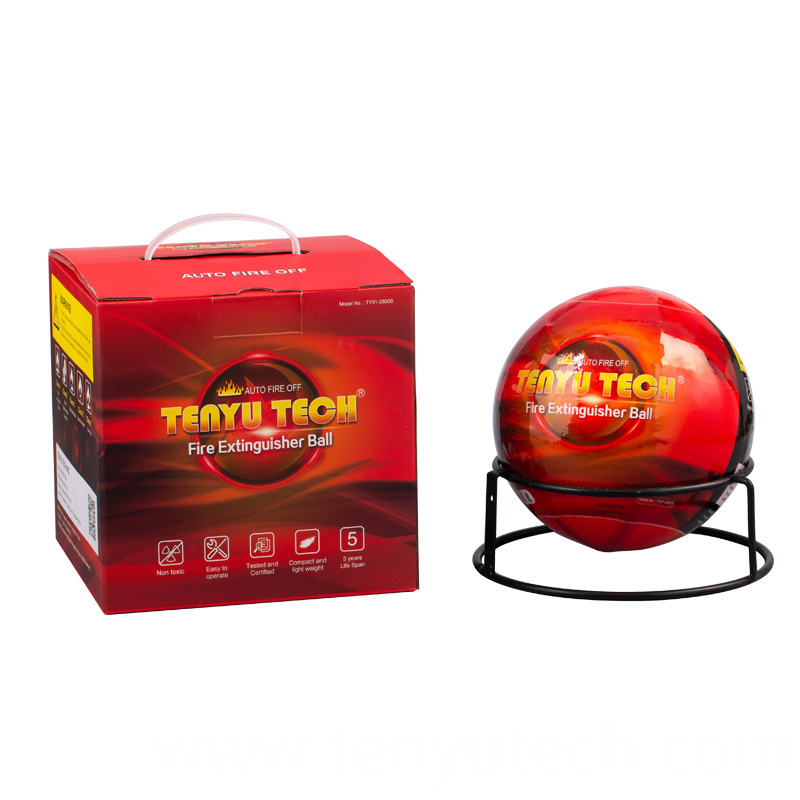 Special datas:
Product name:Auto Fire Extinguisher ball
Item #:TY-4000
Diameter:215 mm
Weight:4kg
Extinguishing Range: 9.0m³
Reaction Time: ≤ 2s
Alarm Volume:120dB
Life Span: 5-Year
Accessory:
(1) Bracket+Screw (by default)
(2) Bracket+Magnet(if specified)
Six advantages:
1、Lightweight portable: only 1.2Kg, all people can freely use.
2、Simple: simply thrown into the Fire Ball fire place or installed in fire-prone position, caught fire extinguishing can be carried out.
3、Responsive: as long as the contact flame 3-5 seconds, will be able to trigger a fire extinguishing mechanism, effective fire.
4、Alarm function: as long as the placement of the fire extinguishing ball in fire-prone areas.When the fire occurs, it will be able to produce and issue the alarm with about 120 decibels.
5、Safe and effective: no longer need to close to the fire scene, the environment completely harmless; completely harmless to the human body.
6、Warranty Validity: five years, and does not require any routine maintenance.
Note:
1, Powder extinguishing ball should be stored at room temperature, dry environment.
2, Do not deliberately throwing, ignition Automatic Fire Extinguisher.
3, Do not expose the Fire Extinguisher to water sources to prevent damage to the fire extinguishing mechanism.
4, Forbidden to damage, demolition.